Have you ever thought about growing your own mushrooms, but hesitated because it seems difficult, mysterious, or expensive?
Well I'm here to shatter all of those preconcieved perspectives and show you the simple and incredible path to delicious, gourmet, nutritious mushrooms. The world is actually your oyster…Mushroom!
Even with a tiny bit of land, growing Oyster mushrooms (Pleurotus sp.) is inexpensive, requires little materials, and creates an abundance of healthy food. Growing your own mushrooms is incredibly rewarding and the flavours will inspire you.
Growin

g
Oyster (Pleurotus sp) mushrooms are by far some of the easiest mushrooms to grow. They are saprophytic, meaning they feed on trees and an incredible amount of materials including "paper, straw, wood, coffee grounds, seeds," (Stamets, 2005) and can even break down petroleum based pollutants in the landscape.
They do not kill trees, they simply feed on ones that are already stressed or hurting. This in turn feeds a complex array of species within an ecosystem, benefiting many food chains and soil structures. This is something beautiful to ponder as you get started growing these beautiful creatures.
Here's how to get started:
Purchase your Oyster mushroom sawdust spawn

. Some great mushroom spawn retailers are River City Mushrooms, Grow Mushrooms Canada or Fungi Supply. A 4 lb bag is more than enough for a 8′ x 4′ plot. Select a delivery time in the spring where there is no longer any chance of frost. For me in Northern Ontario, that is late May. You can also do this in Autumn. These sell for around $25.



Prepare your bed.

Lay down a layer of cardboard where you want to grow your Oyster mushrooms. This area should have mostly shade throughout the day with dappled sun. Direct sun is a no no for Oyster mushrooms. A great area is the edge of a forest. Ensure the cardboard has no colour or plastic tape remaining on it.
3. Lay down a layer of Straw. Acquire some straw from a nearby farmer. Ensure they don't use any pesticides during their straw growing. Also make sure there isn't already mould growing in the straw. Lay it down a couple inches thick. It doesn't have to be exact, and doesn't have to be level. Just roughly lay it down.
4. Sprinkle down a layer on Oyster mushroom spawn. Crumple up any spawn in your hands that has formed into big chunks. Sporadically lay down the crumbly bits all over the layer of straw.

5. Add another layer of straw the same way you did initially.

6. Add another layer of Oyster mushroom spawn, sprinkling it on top of the straw.

7. Add a final layer of straw. You now have a straw sandwich for your fungi to eat up!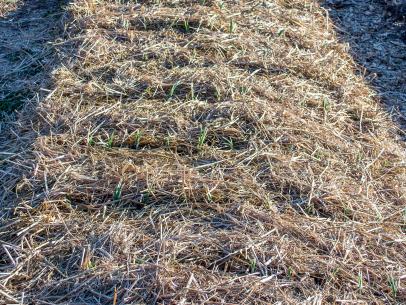 8. Mist the entire plot with water to dampen whole area. Ensure the whole thing has become moist. Water will initiate the whole process!

9. Add tarp over top of plot to maintain moisture within the straw. Secure it with rocks around the outside edges, or other heavy objects so it doesn't flail off in the wind. If you don't have a tarp, water twice daily with mist to ensure it's staying damp. This is of course dependent on how much it rains where you live, and how deeply it rains when it does. If you're ever in doubt, check the moisture levels with your hands.

11. If you use a tarp, check weekly to ensure moisture is still present. If not, add water.

12. It really is as simple as that! Within 1-4 weeks mushrooms will start to appear! Check the bed daily after a week passes to ensure tarp doesn't damage them as they fruit. Remove tarp once you see mushrooms start to appear. Mist daily after removal, weather dependent.
13. Check back periodically for additional flushes of mushrooms! You can often get 2 out of the season.
Cooking
My partner absolutely dreads button mushrooms from the grocery store and thought all her life that she did not like mushrooms. It was only until we started to experiment with mushroom foraging and tried a few different ones including Oysters, Lobster mushrooms, and Hericium that she completely fell in love. She couldn't believe how much she loved them! And how fundamentally different they are from regular button mushrooms.
Not a mushroom fan? Be prepared to surprise your taste buds! The flavour and texture is so delicious, tasting nutty, and woodsy with a meaty texture.
It is absolutely essential to cook Oyster mushrooms, and all mushrooms for that matter! Cooking them allows our bodies to better absolve the nutrients, as mushrooms cell walls are quite tough uncooked.
We love lightly sauteing them in a cast iron with olive oil until caps and stems are browned, and adding them to all kinds of dishes. Some of my favourites to add them to are mushroom chowders with other sea food tasting fungi like Lobster mushrooms, veggie taco "meat", fresh pasta with more delicate rosee sauces to really let the mushroom flavour shine, or paella. We also love to batter them in tempura and fry them! So delicious. Add a little spicy mayo in there for dipping.
You can also make Oyster mushroom jerky. The texture and flavour is to die for! Make a simple marinade with tamari, black pepper, liquid smoke, maple syrup, seasoning salt, and garlic powder. If you want a bit of a kick add in some Cayenne pepper sauce into it!
Let them soak for at least 4 hours, overnight preferably. Then dehydrate them for 8 hours until chewy and dry. They are a special snack to endulge in during the day, on hikes…and at all times!
You can also try browning in olive oil with Onions and Garlic, and then braising with tamari and other herbs like Parsley, Oregano, or Sage. If you really want to mix it up, add other wild foods like Nettles, Bee balm leaves, or Plantain leaves to your tamari herbal concoction to really shine incredible local flavours. Garnish with some edible flowers like spring time Violets, or Nasturtiums in the summer.
Nutrition and Medicine
When it comes to fighting environmental pollution, tackling various ailments humans have, and providing a rich source of nutrient rich foods, Oysters are unparalleled. Often the greatest medicines for the Earth are the same in us.
Oyster mushrooms are brimming over with nutritional and medicinal benefits for our bodies. They are nearly a third in protein, high in an array of B vitamins, and naturally contain a constituent called lovastatin that lowers cholesterol.
In Conclusion
This is a really beautiful species to get to know and grow. This is something I look forward to every year. Once you start to grow them you'll find it's one of those things that you just can't help but get hooked on. The magic of it has many spores waiting for the right kinds of lovely people to grow them out.
In an age of political madness, perpetuating viruses, and climate change, Oyster mushrooms are a simple food to learn to grow with. Instead of relying on vulnerable food systems for all of your needs, you can grow these mushrooms for your family and create the resilience you need right now. Learning how to utilize the land we have to grow food is an incredibly empowering response to crisis.
References
Jacke, D and Toensmeier E. (2005). Edible Forest Gardens Volumes 1 and 2. Chelsea Green Publishing
Stamets, P. (2005) Mycelium Running: How Mushrooms Can Help Save the World. Ten Speed Press.
Stamets, P. (2000) Growing Gourmet and Medicinal Mushrooms. Ten Speed Press